Sri Maari Amman Kovil – Sivakasi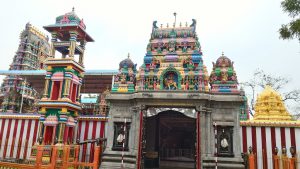 Sri Maari Amman Kovil is another famous temple in Sivakasi.
Sri Mariamman is the Goddess of the temple.
"Kumbabhishekam" for this temple was first held on 21-1-1983. "Kumbabhishekam" for the "Gopuram" of this temple was held on 6-2-1984.
Recently Kovil Kumbabhisekam was held on 20-01-2016
There is a beautiful Silver Ratham in the temple.