Sivakasi Schools and Colleges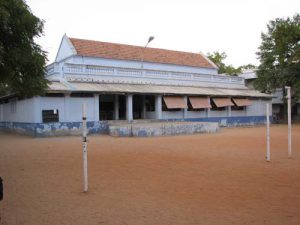 Due to the high industrial growth in the town, the NADAR Community people started a chain of schools and colleges to show their commitment towards the upliftment of the Sivakasi People.
So many Industrialists enhances the development of schools and colleges in Sivakasi. One such famous institution is Sivakasi Hindu Nadar's Victoria School and its various concerns. This school is an ancient one , started in the year 1894. This school has a current strength about 18,000 pupils.
Due to the high pitches propaganda of media about CHILD LABOUR in the town, the industrialist moved their attention towards educating the very children through a campaign for the past 70-80 years. The results are the following list of educational institutions
Schools
S.H.N.V. Matriculation Higher Secondary School
S.H.N.V. Middle School
S.H.N.V. English Medium and Nursery School
Sivakasi Hindu Nadar's Girls School
Lions Matriculation Higher Secondary School
Yennarkay Ravindran Thilagavathy Vidhyasala Matriculation Higher Secondary School
Metha Jain Matriculation Higher Secondary School
Jaycees Matriculation Higher Secondary School
Coronation Girls Higher Secondary School
A.V.T. Municipal Higher Secondary School
Thiruthangal Lions Matriculation School
Vinayaga Matriculation School
Gurukulam School
C.M.S. Higher Secondary School
Velankanni Matha Higher Secondary School
S.R. Higher Secondary School
Kalai Maghal School
Rotary School
Kamarajar School
Shruthi School
C.S.I School for Mentally Retarded, Sachiapuram
C.S.I School for Deaf Retarded, Sachiapuram
ANUA Municipal Hr. Sec. School
A.U.MPL.Hr.Sec. School, Sivakasi
S.R.Govt.Hr.Sec. School, Thiruthangal, Sivakasi
Muslim Hr Secondary School
K.P.P.T.D. Jaycees Matric School
Seventh Day Mat. School
Colleges / Polytechnic / ITI
MEPCO Schlenk Dental College
Ayya Nadar Janaki Ammal Women's Polytechnic
Ramalakshmi ITI
Padmanaba ITI
Pabanas ITI
Computer Educational Institutes
Prabhath Type Office, South Car Street, Sivakasi