Sivakasi Printing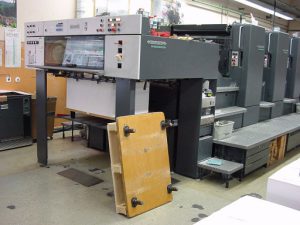 The whole printing industry in Sivakasi is salutes to our founder respected Sri.S.Kaliappa Nadar, who is the founder of Offset Printing in Sivakasi. In 1937 he established "Sivakasi Industrial Printing Works", thus paved way for the Offset Printing Technology in Sivakasi.
During the early 20th Century, Mr. N.R.K. Rajarathna Nadar who was the founder of the Hindu Matches Ltd., and Mr. Arunagiri Nadar of National Litho Press established for the first time printing units in Sivakasi. The Sivakasi Master Printers Association was established in 1948 which commands a membership of 256 units.Many units were started by entrepreneur's and so the business magnates of North were attracted towards Sivakasi.
The city has about 450 printing presses including offset and flexo types. More than 50,000 workers are engaged in printing and allied industries in Sivakasi. The town also has a school of Printing technology that produces every year of about 150 candidates and were placed in India and in other Gulf countries. Even commendably security jobs like printing bank cheque books, flight tickets and lottery tickets were undertaken by the leading presses in Sivakasi. Most of the leading presses are successfully competing with the international bidders, especially in Asia in the export quality printing of children's books, notebooks, magazines, greeting cards, calendars, trade labels and cartons.
Over the years, the printing industry has grown in all parts of the globe. The advent of TV and Internet has not affected the growth of and requirement for printing professionals.
The industry has made giant strides in recent times in improving its machinery in terms of the scope, technology and speed. Computers and electronics have invaded all the departments of printing, improving quality and speed of the jobs executed with the consequent enhancement of costs enormously.
In fact, the arrival of computers has complemented the printing business and has played a vital role in increasing its status as a clean profession.
The Sivakasi Institute of Printing Technology was founded in the year 1977, when it was found absolutely essential to provide technicians and supervisory staff for running the large number of printing establishments that had come into existence. The sponsoring body of the institute is The Sivakasi Master Printer's Association which is an affiliated member of the All India Master's Printer's Association.
It is intended for training students in printing processes, with a special emphasis on offset printing. It is affiliated to the Directorate of Technical Education of the state. State-of-the-art infrastructure is provided in the campus, so that the students are exposed to all modern levels of instruction and training. The institute provides special training for those who are interested in particular printing field. They can undergo Short-term courses conducted in the institute's campus.
Plate making
Offset machine printing
Mini offset printing
Camera operation
Screen printing
Desk top publishing
The following are some of the Offset Printing Presses
Pauls Poly Pack
Coronation Arts and Crafts