Sivakasi – Hinduism: Harmony in Diversity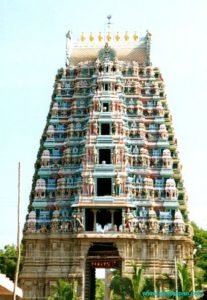 Towards universal brotherhood… – by Sarah Vanstone
One of the first things we noticed in India is how religion is fundamentally intertwined with every day life. Another reason for the fascination we feel is the way in which people for whom religion is so essential can live together in a peaceful manner, although their spiritual values and practices differ greatly. This issue of our magazine is an homage to religious tolerance, wherever and however it may manifest itself.
The Sivakasi Times' reporters have tried to give you a presentation of each of the major religions in India, in an attempt to prove that they all teach tolerance and cooperation, while our interviewee of the month shows that Sivakasians generally respect these principles. You will also read about the way people of various religious faiths live with each other in Sivakasi and generally in India, and you will learn what it takes for the world today to live in peace.
Hinduism: harmony in diversity
Today the Hindu people in Sivakasi live with a minority of Muslims and Christians. The Hindus are very open to other religions such as Christianity or Islam, reading the Bible or the Koran, and are often known to convert to other religions. The picture Deva, a local Hindu I interviewed, painted of modern Hindus was of a dynamic and tolerant people, who are prepared to mix with other religions in order to provide better for their families. It made perfect sense to me, as economic situation is something that all families are concerned with, and so everyone is always united in their common needs and aspirations. This seems to be the key to working and living together; people connect because they are neighbors, regardless of what religion they hold.
I asked Vijay, (a 24 year old Hindu), what his personal goals were in his life, and how he felt towards people of other religions. He eagerly replied: "I would like to get a better paid job, to bring in sufficient wealth for a family. I want to marry a Hindu girl of the same caste as myself, and raise a family. After the age of 60 I will concentrate on religious life and travel throughout India. I go to the temple everyday, twice on holidays. I pray for mental peace, global peace, harmony in society and good relations between neighbors. I believe strongly in a brotherhood of man". His voice made it clear to me that while the Hindu rituals and goals were important to him, he also keeps friends of many different castes and religions, and sincerely hopes that the entire population can live harmoniously together. His willingness to believe in a brotherhood of man that included everyone was very encouraging.
I later visited the Patrakali Amman and the Sivan Temples in Sivakasi. On both occasions, although the guards were very welcoming, I felt rather intrusive and out of place as I walked in, wandering around the wall paintings and Hindu deities like a tourist. I watched the Hindu people receive blessings from the priests, and tried to fit in as best I could by observing their behavior. In both temples women approached me, looking pleased to speak to a foreign person and asked me how I felt to be in the temple. I replied that it was very peaceful, and like a quiet sanctuary from the noise of the street outside. They explained to me that the temple is mental peace for a Hindu. When problems arise in one's life, the temple is like a savior. They daily pray to the deities as a way of unloading their sufferings. I felt extremely lucky to be given an insight into a very private religion, and learned that while the temple is a very intimate and private place for Hindus, they function and communicate freely with everyone, being more than happy to welcome others into their lives.
The over-riding feeling I've got from talking to various Hindus in Sivakasi is that they remain a peaceful and tolerant religious group, happily living amongst Christians and Muslims. Inevitably antagonistic political movements and inter-marriage between Hindus with other religious groups will cause some natural tensions, but the Hindu belief of living in harmony with a natural order seems to help in their tolerance towards others. As one of the oldest and most beautiful traditions in the world, the Hindu people, (like everyone) vary widely in their beliefs and attitudes, but I believe that the Hindus of South India can remain true to their traditions, while at the same time living happily in a changing world with many other groups of people.