Sivakasi Festivals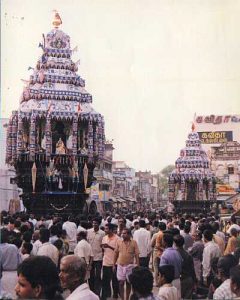 FAIRS AND FESTIVALS
Hindu Celebrations:
Panguni and Chithirai Pongal festivals are grandly celebrated in Sivakasi for the Goddess Sri Mariamman and Sri Pathirakaliamman respectively. It usually comes in the month of April and May respectively.
Pongal festival is celebrated for 10 days from the day of Kodiyettram. On the 7th day the "Ratha Urchavam" (Therottam) is held. The people through four "Ratha Veethies" drag the Ratham and when it reaches the destination it is celebrated as the last day of Pongal celebrations. In Chithirai Pongal festival, the 5th and 6th days are celebrated very grandly.
Thiruvathirai Festival is famous in Sivakasi. In this festival four Rathams from 4 temples are decorated beautifully with "Sevanthi Flowers". Large numbers of people visit Sivakasi during this festival to worship the Gods.
Christian Celebrations: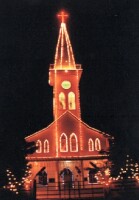 Roman Catholics celebrate "Our Lady Festival" on February 11. They decorate the god in a ratham and it goes through the main streets of Sivakasi. Protestants celebrate "Ikkya Virunthu" as local festival of their church.
Muslim Celebrations:
Muslims celebrate "Chandana Koodu Festival" as local festival in their Dhargas.